Untapped landfill gas resources in the US are surprisingly large due to the fact that a regulatory requirement to collect it has generally been absent. According to the EPA in the US in 2011- 2012 there were about 510 candidate landfills with no landfill gas extraction and utilization (such as Landfill Gas to Electricity (LFGTE)) which could provide a total gas generation potential of 210 billion cubic feet per year (~12,200 MMBtu/hr) OR total electric potential of 1,165 MW (~9.5 million MWh/yr).
The EPA, through their Landfill Methane Outreach Program is publicizing the fact that if LFGTE projects were developed at all these landfills, the estimated Annual Environmental Benefit would amount to:
– Carbon sequestered annually equal to approximately 10.3 million acres of pine or fir forests OR reducing the annual greenhouse gas emissions from about 9.3 million passenger vehicles,
AND,
– An annual Energy Benefit if used in LFGTE schemes which could be powering more than 687,000 homes OR heating more than 1.3 million homes per year.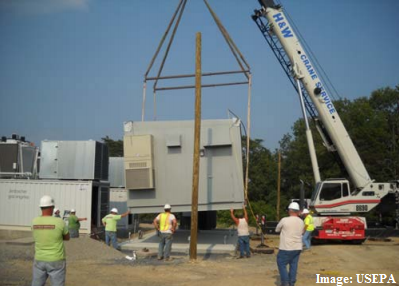 The same opportunity does not arise in the founding EU states because the relevant directives have required member states to install landfill gas extraction for flaring as a condition for providing permits for all landfills for more than 20 years. Once the site owner knows it is necessary to install a gas collection system in a European landfill, the decision to go the whole way and spend on a LFGTE installation has been easy to make as the main risk cost of installing LFGTE systems arises from the fact that the site operate can only be certain of the LFG yield once the gas is being collected.
Nevertheless, for any organization active in landfill gas installation contracting in the US, or wondering whether to move their business into this area, this is a real opportunity, especially since some US states they are bringing in a landfill gas flaring requirement for some landfill sites.
From our knowledge of the landfill gas market internationally, and based on the assumption that all landfill operators will hold the right to the landfill gas produced by their landfills, we would expect that to gain access to any of the large landfill sites and waste management operator's landfill gas would be extremely difficult. If there was a commercial opportunity to make money, these companies will have spotted it, and will have more than adequate in-house expertise to implement their own LFGTE schemes.
Even if they have not been aware of a potential profit source from their LFG, and an outside company came along and showed this fact to them, we suspect that they would be most likely to say thanks very much, and implement it themselves.
However, in the rural areas of the US there are many landfills of a viable LFG size, say accepting 100,000tpa of MSW for 10 years, which operate their landfills themselves, or by tender to a local contractor, and are say 3 to 5 years into landfilling, which could right now support a LFGTE scheme.
In the past most of these sites would have been dismissed due to the frequent isolated locations and the cost of bringing in a larger power supply/ feed-in point and connecting the site into the local electricity grid.
That has all changed over the last two years with the coming of age of LFG upgrading equipment which cleans and compresses LFG so that it becomes a great fuel for powering vehicles, and once compressed inot cylinders, it can be transported to population centres/ gas (petrol) stations for its sale and use. Frequently, such transport becomes unnecessary when the landfill operator relaizes the many benefits financial and environmental in using this vehicle fuel in their own fleet.
To see the EPA's Landfill Gas U.S. Environmental Protection Agency Landfill Methane Outreach Program (LMOP) pdf click here.
---
---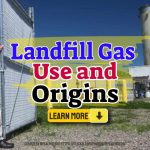 Landfill gas use is the collection and treatment of methane or other gaseous substances from the decomposition of the waste in a landfill to create power, heat and energy. In addition to fossil fuels and farming, municipal solid waste (MSW) landfill gas was third in the world as the contributor to methane emissions as a […]