Landfill gas flares are now destined to be installed in a lot more landfills globally after COP26. This article is intended to help the anticipated influx of industry newcomers with their Landfill Gas Flare selection, installation, and maintenance.
One of the international pledges made during the UN International Climate Change Conference 2021 otherwise known as COP26 was the US, UK and EU Methane Pledge, with landfill methane emission reduction being one of their cornerstones.
Targeting landfills for methane (landfill gas (LFG)) collection, extraction and combustion flaring is a major key to fighting very highly damaging methane emission in respect of the impact on climate change.
An LFG system's primary premise is to collect landfill gas, which is subsequently flared (burned), or converted for energy usage once all impurities are removed.
According to the US Environmental Protection Agency's Landfill Methane Outreach Program, 60% to 90% of CH4 produced from landfills can be absorbed, depending on the system and its efficacy.
As a result, in the not-too-distant future, every landfill will be required to develop a landfill gas collecting system as soon as landfill gas production begins. We all gain from every molecule of CH4 that we gather before it is released into the atmosphere. There are numerous methods to select from, each dependent on a variety of factors such as feedstock type and volume, available space, and budget.
In 2021, the bulk of municipal solid waste in the United States and throughout the world will still be disposed of in landfills.
In industrialised nations, sanitary landfills with bottom liners, leachate collecting systems, leachate treatment, gas collection, gas treatment, final coverings, and air and water monitoring systems are commonly employed to reduce damaging impacts.
But, unfortunately, they all generate landfill gas which is a mixture of gases but predominately methane.
Landfill Gas Flares – Available Types and Designs
Landfill Gas Flare Stations must be built to meet or exceed all relevant regulations. The national and local air quality regulatory management authorities establish these. These organisations use legislative instruments to enforce laws and best practices for all high-efficiency landfill gas combustion systems.
Landfill Gas Flares and Landfill Gas Flare stations, for example, are developed and built in accordance with the EPA's CFR 40, Section 60.18 regulations in the United States.
Shrouded Flares are an appropriate choice for most landfill sites, and a number of companies offer regulatory-compliant Flare Model Ranges as a starting point.
These flares are built to meet the bare minimums of simple LFG combustion, and the vendors give a list of alternatives that may be required to connect each flare into more complicated landfill gas collecting, combustion, and control systems.
Flare system packages often contain fully integrated extraction blowers to suck landfill gas out of the garbage under negative atmospheric pressure. On flare skids or in properly fitted ISO shipping containers, additional flare control and flare performance monitoring equipment can be installed. These may be mixed and matched in a variety of ways.
Open Candlestick Flares versus Enclosed Flares
Flare designs include open (or candlestick) flares and enclosed flares (shrouded flares).
Enclosed flares are more costly, but they are necessary for monitoring flare efficiency because they give better control over combustion conditions and only enclosed flares allow stack emissions testing. The benefit of a shrouded flare is that the designer may size the shroud width and gas flow rate for the shortest gas-heat retention duration using a specified design gas velocity.
For more than 20 years, European standards have been made consistent with a legislative requirement, guaranteeing that the flare does its duty of fully converting CH4 to CO2. Every flare must meet a minimum flare combustion temperature and retention time of the burning gases, as required by law. The United States, on the other hand, has been slow to impose such restrictions.
Open flares, on the other hand, are unable to regulate the flame and are adversely impacted by wind and air turbulence. Because the flame is unsteady, it lowers combustion temperatures and raises the danger of incomplete combustion. Worse still, open flares can contribute to sooty carbon emissions, which are very climate-damaging.
Flares that are shrouded can help lessen noise and light pollution, as well as avoid the dangerous grounding of hot gases in certain wind conditions.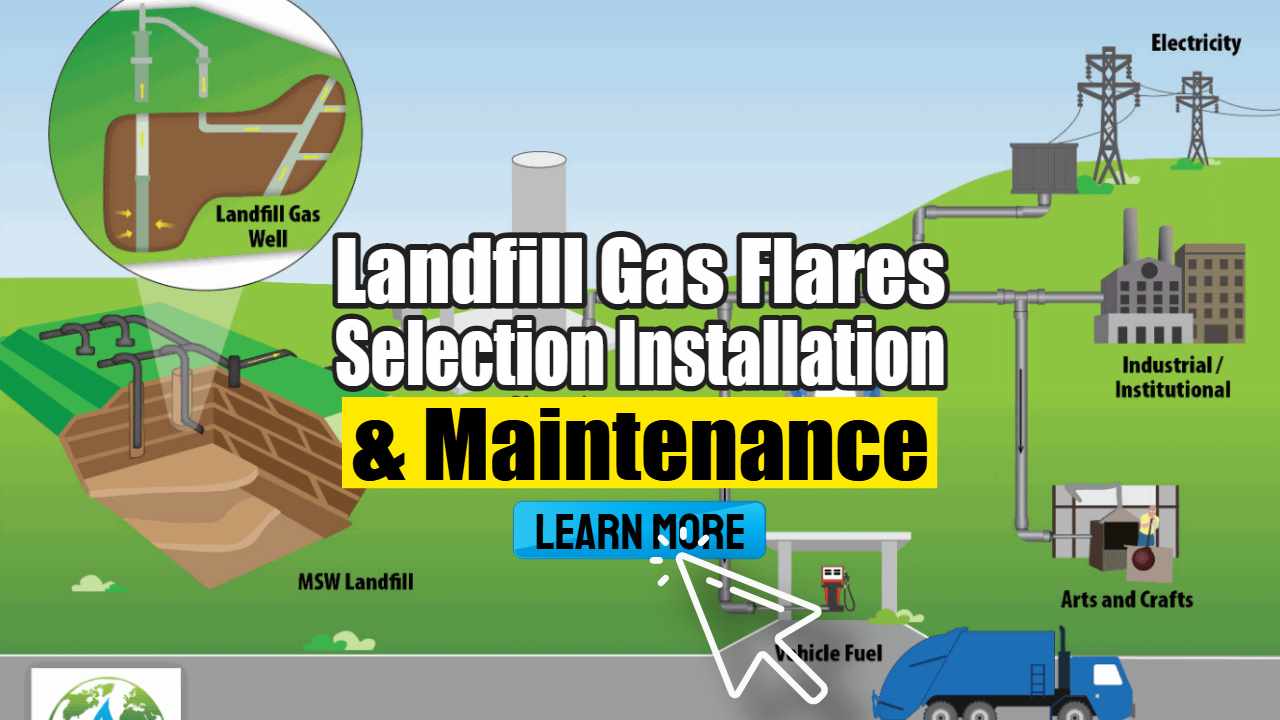 Are Flares Necessary on Landfill Which Utilise their Landfill Gas (LFG) in EfW and Heat Applications?
Flares are beneficial in all landfill gas systems because they may reduce gas extraction surges and maintenance downtime. As a result of the COP26 Methane Pledge, enclosed flares with the flame not visible above the shroud (cowling), will now be required at all landfill sites in the United Kingdom and shortly also throughout the EU.
Flares must not only be developed and installed with suitable installation processes to ensure landfill gas (methane) emissions reduction quality but they must also be tested for safety under the ATEX Regulations Directives and the Dangerous Substances and Explosive Atmosphere Regulations.
All connected dangers and risks must be thoroughly examined and designed out, as well as safe operating methods and training implemented. Not only that, as circumstances may change "safe methods of working" must be reviewed on a regular basis and altered over time.
In the landfill gas sector, attention to safety in all parts of landfill gas collection, extraction, flaring, and use must be second to none, otherwise, gas explosions and asphyxiation tragedies will occur.
Landfill Gas Systems Safety
Safety policies must be written and applied with constant vigilance by all staff and operatives dealing with landfill gas systems their own employees working on well monitoring and maintenance.
The installation of new landfill gas extraction wells must be checked for correct functioning, and external gas monitoring wells checked for any gas migration off-site. The LFG extraction well field may need rebalancing by valve settings changes after new wells are commissioned until adequate suction pressure at the perimeter exists to prevent migration. Nevertheless, care is also needed to ensure that air is not pulled in at the perimeter of the wastes which can result in deep-seated landfill fires.
To continue to recover additional methane gas from a landfill, only one flare or generator set should be shut down at a time. During this maintenance period, the landfill gas to energy facility should continue to be operational for as long as possible to ensure minimal loss of earnings.
Landfill Gas Flare Suppliers
Many landfill flare designs and manufacturers provide turndowns of up to 100:1 in landfill gas flare systems and stand-alone landfill gas flares. Turndown is set to a minimum of 10 SCFM for maximum efficiency while still meeting landfill biogas destruction criteria. Wherever the need for a healthy, well-maintained environment is acknowledged by the public, high-efficiency combustion delivers the odour control that local inhabitants expect and are entitled to.
Current air quality regulatory management agency criteria are met or exceeded by the top landfill gas flare designers and installers. While the systems are running, the operator may manage both the fuel gas nozzle and the combustion air entrance louvres with these combustion devices.
List Of Landfill Gas Flare Suppliers
1 – Combustion Research Associates
Combustion Research Associates is headquartered in Noida, India (New Delhi-NCR). Combustion Research Associates hold ISO 9001:2008 and ISO 14001:2004) certification and the company has been led by skilled scientists and engineers since they were founded in 1993. They specialise in offering flare solutions that are clean, green, and creative.
2 – Biogas Technology Limited
Biogas Technology Limited is headquartered in Sawtry, England. Biogas Technology Ltd, founded in 1988, brings together the resources and experience needed to alleviate the risk, liability, and financial burdens that landfill site owners confront, as well as to assist its clients in capitalising on commercial prospects.
3 – C-deg Environmental Engineering GmbH
C-deg environmental engineering GmbH is a German company situated in Kiel. C-deg offers tailored solutions for the environmentally responsible treatment of all greenhouse gases all around the world. Gases emitted from industrial and biological activities that cannot be utilised for other purposes must be flared depending on the status of the landfill gas, which fluctuates in quality over time.
4 – Ennox Biogas Technology
Ennox Biogas Technology is situated in the Austrian town of Hard. They are believed to be one of Europe's leading LFG businesses. They tout themselves as a leader in biogas treatment, gas storage technology, and gas flaring technology. They supply sophisticated gas components that span the whole biogas equipment spectrum.
Synchronous International Engineering Solutions Co. Ltd.
Bangkok, Thailand-based Synchronous International Engineering Solutions Co. Ltd. In this industry, the firm provides products and services. Flaring biogas, landfill gas, hydrocarbons, LPG, natural gas, syngas, and other waste gases. Pollution control and renewable energy systems are among the services they provide.
CRA – Model Enclosed Flares/Thermal Oxidizers
Flares for Biogas, Landfill, Natural Gas, Hydrocarbons, and Petrochemicals are available from CRA as Model Enclosed Flares and Thermal Oxidizers. Flaring must provide excellent performance as well as silent operation. Enclosed/Ground flares are available from SIES for biogas, landfill gas, petrochemical, syngas, producer gas, and CBM.
AirScience Technologies Inc.
Montreal, Quebec-based AirScience Technologies Inc. (Canada). AirScience Technologies was founded in 1993 when two firms, one Canadian and the other American, merged. The firm has refocused its efforts after fifteen years of developing and installing air pollution control systems for the primary and chemical sectors.
AirScience – Biogas Flares
Biogas Flares are manufactured and installed by AirScience. Applications for anaerobic digesters (AD) and biogas include enclosed flame flares. These are utilised in AD biogas applications to burn surplus biogas from the process as well as the whole biogas output while providing downstream biogas valorization.
Hofstetter BV
Hofstetter BV is a Dutch firm situated in Schiphol-Rijk. Hofstetter is commonly thought of as the world's foremost expert in flaring and degassing technologies. The firm was founded in 1975 and claims to have deployed over 1,600 systems throughout the world to date.
HOFGAS – Model Ready/C – Landfill Gas Extraction and Flaring Station
The Model Ready/C – Landfill Gas Extraction and Flaring Station is available from HOFGAS. They provide the HOFGAS- Ready/C extraction and flare station for landfill degassing that is seen by many as being both safe and cost-effective.
Landfill Systems Ltd
Landfill Systems Ltd is headquartered in Ipswich, United Kingdom. Landfill Systems was established in 1995 to fulfil the growing need for electrical and mechanical engineering services in the landfill gas renewable energy sector. Landfill Systems primarily serves the waste management sector with electrical and mechanical services.
Parnel Biogas, Inc. Landfill and Digester Flares
Tulsa, Oklahoma-based Parnel Biogas, Inc. (USA). Landfill and AD Plant Gas Flares, hooded flares, LFG processing skids, control panels, skid based systems, remote monitors, and other products are all designed and supplied by Parnel Biogas.
The firm that specialises in the design and construction of elevated and enclosed landfill gas flaring technology, skid design units, mostly with blower skids, and site control works integration.
C-NOx GmbH & Co. KG
C-NOx GmbH & Co. KG is a German company situated in Neumünster. Complex technical systems need a holistic picture as well as a detailed understanding of individual components and their relationships. C-NOx views itself as a gas-engineering component expert and supplier for environmental protection and industrial applications.
Comcor Environmental Limited
Cambridge, Ontario-based Comcor Environmental Limited (Canada). The company is regarded as a landfill gas management expert in all aspects. Since 1985, the organisation has also supplied specialist waste management and environmental engineering services.
Landfill Systems
Landfill Systems manufacture complete flare system packages. Their flare skid systems are offered for short or long-term rental in various regions. In the early years of a landfill's life, flare systems consisting of a blower skid, blower, knockout tank, and controls can be quite beneficial. Using these moveable skid-mounted flare systems, landfills and landfill cells that don't yet generate much gas or cells that produce gas of varying quality may be separated and flared until they become completely methanogenic.
In the early days of landfill gas generation, renting a flare system enables a pilot test to be done. The test flow data is then utilised to determine the landfill's flow capacity. A permanent flare system can be created based on these findings.
Later on, as the waste enters anaerobic conditions, gas collecting devices are generally required at landfills.
Biogas Methane Destruction in Landfill Gas Flares
Municipal solid waste dumps, which collect a huge volume of organic waste, are a key source of biogas. The biological breakdown of this bulk of organic waste produces significant volumes of biogas (landfill gas).
After the emphasis given to the Methane Gas Pledge and the significant climatic damage caused by methane remissions-related global temperature rises at the COP26 Climate Change Conference in Glasgow, it is envisaged that most jurisdictions will soon have mandatory landfill gas capture at the source.
In other terms, the landfill gas is destroyed using enclosed flame flares. Although this does result in carbon dioxide emissions, the resulting global warming is significantly less severe.
Many landfill gas workers work on the restoration of existing landfill gas flares as time passes and aged flares wear out and require refurbishing.
Landfill Gas Flare Combustion Emissions vs Combustion Devices Used for Energy
Comparing emissions from landfill gas flares to emissions from energy-producing combustion devices is difficult due to a lack of data. Boilers, turbines, and internal combustion engines are examples of combustion devices.
Carbon monoxide and NOx emissions are highest from internal combustion engines and lowest from boilers, according to relatively limited data in a 1995 EPA analysis.
Internal combustion engines emit 44 percent more dioxin than covered flares, according to a more extensive analysis (by the county sanitation districts of Los Angeles county in 1998) of around 20 investigations including 76 tests at 27 locations.
These statistics should not be applied to site-specific scenarios due to the substantial variability in dioxin emissions from landfill gas burners (depending on the type of trash dropped and also on the combustion technique – internal combustion engines are considerably more variable).
Encon manufactures thermal evaporators that can burn off-spec landfill gas at a pace that keeps up with landfill leachate wastewater output. Encon also produces thermal evaporators that evaporate leachate using waste heat from landfill flares or exhaust from on-site power production units.
C-deg, AirScience, Cleanergy and EPG – Energy From Biogas with Backup from Landfill Gas Flares
The capacity to generate electricity from anything other than a high calorific landfill gas was severely constrained until a few years ago. The spectrum of LFG quality that can be utilised for power generation has been expanded in recent years thanks to new generator models and cutting-edge technology. Some LFG generator makers even claim that any landfill with a traditional gas flare may now generate power and heat.
The Cleanergy C9g Generator is a type that produces electrical power and heat energy from very low gas flows, according to its creators. This, they claim, is conceivable even if the methane percentage is so low that traditional gas flares cannot burn it.
AirScience Technologies Inc. further claims that their biogas and landfill gas flares product line is the industry leader in landfill gas (biogas) flaring with low calorific content.
Another manufacturer to keep an eye on is EPG. EPG claims to be the market leader in pumps and controls for landfill and environmental applications, as well as offering LFG (landfill gas) and biogas operations. Their flares are also appropriate for landfill venting, LFG collecting systems, and SVE off-gas treatment, among other uses.
Monitoring Enclosed Landfill Gas Flares: LFTGN 05
Since the late 1980s, all regulated landfills in the United Kingdom have had their landfill gas collected and at least flared.
For many years, landfill operators in the UK and Germany have used a manual form of a monitoring technique for periodic sampling and study of the performance of enclosed landfill gas flares. Regulatory requirements frequently include guidance for the inspection and evaluation of functional monitoring/sampling sites. There may be techniques and technology available to adapt older enclosed flares as needed.
When flares are open designs without an enclosed combustion chamber, measuring emissions from them may be difficult and dangerous. Even if one is supplied, the flare shroud may be raised, and flares come in a variety of forms and sizes. For open flares, this alone can make sampling exceedingly difficult.
Because combustion occurs at and above the flare's tip, combusted gases from an open flare can be ejected into the atmosphere in any direction depending on the meteorological circumstances and flare vent gas velocity at the time. Although extractive approaches have been used to quantify flare emissions, a hood-like structure is required. They also need the use of a sampling rake with numerous sample ports or another strategy to guarantee that the flare plume is collected in a representative manner.
Extraction methods for testing open flares are therefore unfeasible. As a result, it's fortunate that hooded designs are catching favour over the world. Recent technical advancements have resulted in the development of remote sensing sensors capable of detecting the presence of combustion products (e.g., carbon dioxide, carbon monoxide, and selected hydrocarbons). This is accomplished without the risks associated with physically removing a sample from a flare plume.
The Gem 2000 LFG Analyser is one of the greatest gas extraction monitors in the Gem 500 series. The Gem 2000 samplers and analyses the methane, carbon dioxide, and oxygen content of landfill gas. It was designed particularly to monitor landfill gas extraction systems, flares, and migration control systems. For some applications, the GA 90 infrared landfill gas analyzer may be a quicker and more accurate device.
Blowers Used With Landfill Gas Flares
A blower, despite its name, creates a vacuum in the perforated pipes, which draws the gas out of the waste. When correctly installed and managed, landfill gas extraction devices can recover the vast majority of landfill gas generated. But, extraction systems don't last very long when compared with how long a landfill will continue to create biogas. Power generation, which requires a good quality LFG to be economically viable, may be limited to the first 20 to 30 years.
This means that the monetary motivation for energy sales vanishes quite soon, and even if it did not the extraction system will quite soon fail. The life of extraction systems won't be long enough to prevent the discharge of all but a part of the methane-content in landfill gas over the life of LFG generation be modern landfills.
In reality, when landfill gas is extracted, after a few years it produces low-quality gas with low heat/energy output. This situation continues for an undefined timespan that might potentially surpass 50 years and last for 150 years or more. Even the best endeavours won't collect more than say half of the landfill's total methane emissions.
Vacuum Control – Landfill Gas Extraction Collection Technology
Methane, carbon dioxide, water, and other organic substances make up landfill gas. In a well-run landfill, a control system for controlling the extraction of landfill gas from a landfill via a gas extraction system is provided.
On-site, the landfill gas (LFG) system collects and regulates gas emissions using a network of wells connected by underground pipes that convey the gas by vacuum.
Well-piping connects at least one well to a gas output in the gas extraction system.
Once collected, the gas is either
flared off (burned)
used to fuel a biogas generator (internal combustion engine), or
processed to pipeline quality (recovery for domestic energy use) at an on-site LFG recovery plant.
Landfill gas collection can be accomplished in one of two ways (Rattenberger 1987): under the landfill gas's own pressure/positive pressure in the landfill (passive gas extraction) or by a vacuum created by compressors known as blowers (active gas extraction) (active gas extraction).
Active gas extraction is preferable in landfills because it is more efficient at removing gas and is considerably better at collecting gas that would otherwise escape at the waste's boundaries.
A consequent force presses upwards on the liner during passive gas extraction, which may open up any minor penetration leaks and enable more gas loss/emission to the environment.
On the other hand, active gas extraction (vacuum in the landfill) causes downward and inward stress on the landfill lining, which it can better tolerate. The regulating and gas drainage layers have a distributional impact in the latter situation, ensuring that gas collecting is as efficient as feasible.
---
---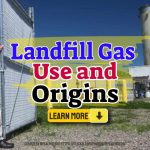 Landfill gas use is the collection and treatment of methane or other gaseous substances from the decomposition of the waste in a landfill to create power, heat and energy. In addition to fossil fuels and farming, municipal solid waste (MSW) landfill gas was third in the world as the contributor to methane emissions as a […]