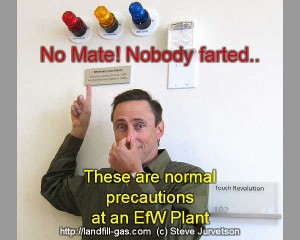 Landfill Gas to Energy is truly a no-brainer renewable energy source (not to waste!), and in this article we explain why this is a fact.
Methane is generated within 6 to 18 months after solid waste is put in a landfill. Peak production starts about a year after deposit in most established landfills, but significant volumes of the gas can be generated for 20 or more years after that when a landfill gas to energy scheme is installed, depending on the individual landfill characteristics. Generating energy from landfill gas in such landfill gas to energy projects does not only mean decreasing its hazard towards our climate; it also serves then as a substitute for fossil fuels, such as natural gas.
Methane produced by the landfill in a "no brainer sort of way" should be collected, processed, and piped to a landfill gas to energy project for all decent sized landfills for more than an input tonnage of waste above 50,000 tonnes per annum, for average domestic waste. After 5 to 10 years of infilling with waste it should be possible to generate consistently about 300MW of electricity from a small gas engine/ landfill gas to energy project.
Such a waste-to-energy ( landfill gas to energy) project is an example of how we, as a society, can transform long-held climate changing practices into more environmentally sustainable actions. In the US and many other countries this is exactly what has been done. For example, there are more than 400 landfill gas to energy power projects today in the United States already. However, the unfortunate worry is that between a half and a third of all the gas will still escape to cause the greenhouse gas heating effect on our planet and accelerate climate change. This is because even lining and capping will not stop a lot of the gas escaping, much of which won't even be produced by the waste for 100 years.
Methane is around 21 times more potent than carbon dioxide as a greenhouse gas and allowing methane escape to the atmosphere would have significant climate change implications. As the last decade has witnessed, increasingly landfill gas is being used to generate electricity or heat in landfill gas to energy and this must be having a positive effect.
Methane also has a short, 10-year, atmospheric life. Because methane is both potent and short-lived, reducing methane emissions from municipal solid waste landfills, the second largest source of methane in the United States, is one of the best ways to achieve a near-term beneficial impact in mitigating global climate change through a landfill gas to energy scheme. Methane is a very potent greenhouse gas and for that reason is a key contributor to global climate change.
In many less developed nations methane emissions from landfills represent a lost opportunity to capture and use a significant energy resource. It is hoped that the CDM (Clean Development Mechanism) carbon credits scheme developed from the Kyoto Protocol in the early 2000s will be extended beyond the next few years will enable more energy from landfill gas schemes to be implemented in the third world nations with help from the richer nations. This is also important as when released into the air, it is not only a greenhouse gas it also contributes to local air pollution.
Many countries have their own schemes to encourage renewable energy production life landfill gas to energy projects. These Green Certificates (sometimes called green tags or renewable energy certificates, and in the UK "ROCS") act like a claim check on each megawatt hour of renewable electricity delivered to the grid, and they apply to landfill gas to energy schemes. The purchaser of a Green Certificate owns a claim to a subsidy for providing environmental savings (such as CO2 reduction) that results from the production of that electricity. Such green power when purchased by the electricity user supports renewable energy development.
This is all part of a bigger picture where, to meet future energy needs at the lowest possible cost, energy planners have opted for a mixture of generation that will include a growing portion of renewable energy from landfill gas (landfill gas to energy), solar and wind turbine energy. This is in addition to the more traditional kinds of power plants.
Using methane to generate energy in landfill gas to energy projects encourages more companies to develop better ways to collect the gas and thereby reduce emissions into the atmosphere. For this reason, energy recovery from methane, where economically viable, is of considerable benefit to the environment.

For an example of the benefits of landfill gas to energy, the US Environmental Protection Agency's Landfill Methane Outreach Program has reportedly assisted in developing over 325 landfill gas to energy projects in the past 15 years. These have reduced methane emissions by about 90 million metric tons of carbon dioxide equivalent. Nationwide there are reports that there were more than 400 projects in operation in 2006 alone, these projects provided over 10 billion kilowatt hours of electricity and 75 billion cubic feet of landfill gas to corporate and government end users.
---
---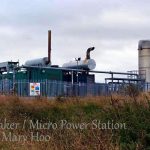 Landfill Gas Power Plants should be installed at all landfills, where the landfill gas (LFG) extraction rate is large enough to sustain a steady flow for long periods (multiple years). A typical Landfill Gas Power Plant for most landfill sites is an internal combustion engine, or possibly a gas turbine. The typical landfill gas power plant is used […]