There were at least 5 important outcomes of COP26. In this article, we provide a short summary of the pledges which were agreed at the COP26 summit last November in Glasgow in video and as text.
The 26th United Nations (UN) climate change conference of the parties (COP26) took place in Glasgow in November 2021.
Despite the fact that many people have said that it was profoundly lacking in the actions agreed, there were a number of promising commitments made. In our opinion, these COP26 main outcomes add up to significant progress. What is now vital is that every nation works hard to bring about the following promised climate change reducing measures.
1. Methane Emissions Reduction Pledge
More than 100 countries have promised to reduce methane emissions by 30% by 2030.
2. Coal-fired Power Phase-Out Agreed
More than 40 countries have pledged to phase out coal-fired power.
3. Participant Nations will Expedite the Development of Affordable Clean Technology for Climate Change Mitigation
An agreement was signed by a hundred world leaders, including heads of state from more than 40 nations, to expedite the development of affordable clean technology for climate change mitigation as well as adaptation.
4. 28 Industrial Firms Promised to Help Drive Up Demand for Hydrogen
Along with this, 28 industrial firms have promised to help drive up both consumer and supplier demand for hydrogen (WBCSD, 2021).
5. Emissions Trading Regulations Tightened
Emissions trading regulations have been tightened as part of the "Paris rulebook," and the Glasgow Finance Alliance for Net Zero (GFANZ) has announced US$130 trillion in private finance pledges from 450 companies in 45 countries.
There you have it the main Outcomes of COP26. The shortest and most concise summary of the pledges made at the COP26 summit last autumn that you will read anywhere!
What the Outcomes of COP26 Mean for the Landfill Gas Industry
Those who are interested in landfills and concerned about the damaging effect of methane emissions from landfills will be pleased with the recognition given to the benefits of reducing all methane emissions. Methane is one of the most potent greenhouse gases in the atmosphere. It has a relatively short half-life, so cutting it will have the fastest possible positive effect on reducing global temperature rise.
Our readers will be interested to know that the market for landfill gas extraction systems and all types of equipment will rise as a result of the methane reduction pledge at the COP26 conference.
There will be an increased demand for everything from landfill gas extraction systems to biogas to biomethane upgrading equipment and gas engines, to extraction pumps and low-calorie gas flares as outcomes of COP26.
It will be an interesting period for businesses in the landfill gas sector, and our website www.landfill-gas.com is looking forward to reporting on developments.
---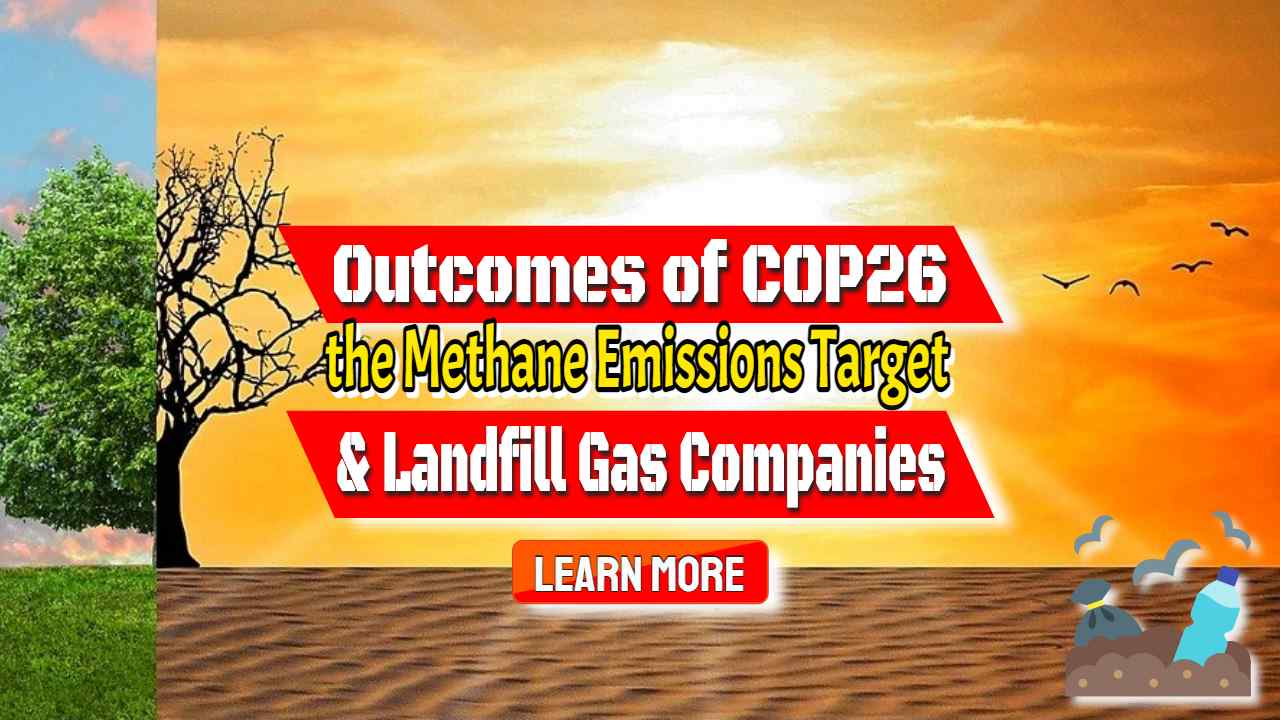 Learn about the Glasgow Climate Pact and the outcomes of COP26 below:
Glasgow Climate Pact Ratification
The United Nations Framework Convention on Climate Change (UNFCCC) has ratified the Glasgow Climate Pact, which aims to make the 2020s a decade of climate action and support. The bundle of decisions includes a number of agreed-upon elements, such as increased efforts to improve climate change resilience, reduce greenhouse gas emissions, and provide the required funding for both.
Experts have spoken in on the summit and the Glasgow Climate Pact, claiming that it will require more action than the summit promised, in order to achieve the increasingly unattainable goal of reducing global warming to 1.5 degrees Celsius.
Fossil Fuel Subsidies
It stipulates a reduction in coal use and the elimination of government subsidies for fossil fuels. Despite the fact that fossil fuels like coal, oil, and gas are the primary causes of global warming, these two critical issues had never been addressed clearly in a climate conference resolution. "An accelerating move away from fossil fuels and towards renewable energy" was noted by a UN official in Glasgow.
Pundits commenting on the outcomes of COP26, have said that the Glasgow Pact that resulted from the conference was devoid of easy victories. But, for the first time, there was an explicit appeal to reduce (but not eliminate) coal and fossil fuel subsidies.
Nevertheless, the term "fossil fuel subsidies" was diluted to "inefficient fossil fuel subsidies." Unless there is movement on subsidies next year, a lack of action will continue to jeopardise the Paris Agreement's temperature objective of far below 2°C. However, we are on track to warm by 2.4°C.
COP decision wording now specifically mentions moving away from coal and gradually eliminating fossil fuel subsidies, which was a first for negotiators. Last but not least, this COP finally acknowledged the significance of nature in lowering emissions as well as creating resilience to climate change effects.
The Fossil Fuels Phase Out is One of the Most Remarkable of all the Outcomes of COP26
Along with debating the need to cut fossil fuel subsidies, governments finished the Paris Agreement's rulebook in terms of market mechanisms and non-market measures, as well as transparent reporting of climate actions and support granted or received, including for loss and damage.
With negotiators agreeing to start moving away from fossil fuels at COP26, it is hoped that businesses will see the writing on the wall for fossil fuel consumption and begin to shift their enterprises away from creating and using it in order to meet their own internal sustainability targets.
At COP26, nuclear power and hydrogen—which is "green" when created using renewable energy but "blue" when derived from fossil fuels—were given prominent platforms. They set up shop in pavilions and took part in keynote speeches and panel discussions. This was especially true for solar and wind energy companies. Trains and bicycles, which are both very sustainable modes of transportation that do not rely on combustion engines, were not even considered.
Despite this, governments made ambitious collective promises at COP26 to reduce methane emissions, halt and reverse forest loss, align the banking sector to net-zero by 2050, abandon the internal combustion engine, and speed the phase-out of coal. To name a few of the guarantees made, an end to international financing for fossil fuels is now on the horizon. So it's fair to say that when noting the outcomes of COP26, the Glasgow Summit served as a launchpad for new sectors alliances and funds to support them, with the goal of transforming the economy at the scale required to achieve a net-zero future.
There was a push to discontinue international funding for fossil fuels and redirect monies to more environmentally friendly energy sources. More than 30 governments and development institutions have signed a declaration calling for a halt to overseas support for uncontrolled fossil fuels next year. If existing development aid to fossil fuels is terminated, the funds should be diverted to clean energy. An $8.5 billion deal was struck to assist South Africa in its transition away from coal, allowing the country to announce a revised NDC that was unusually ambitious. Targeted agreements, such as the one with South Africa, will become more common in the future.
The adoption of policies to transition to low-emission energy systems was agreed upon, including the rapid scaling up of clean power generation and energy efficiency measures. The outcomes of COP26 will include accelerating efforts to phase out inefficient fossil fuel subsidies and accelerating efforts to phase down unabated coal power, as well as providing targeted support to the poorest and most vulnerable in accordance with national circumstances and recognising the need for support toward a just transition.
What the Likely Outcomes of COP26 Mean for Developing Countries
Nations reaffirmed their commitment to meet the offer of $100 billion in aid from developed to underdeveloped countries each year in one of the outcomes of COP26. They also committed to work together to close the gap between present emission reduction plans and what is needed to reduce emissions so that global average temperature rises are limited to 1.5 degrees.
Developing Country Funding Woefully Low
Wealthy countries were anticipated to fulfil their commitments to contribute $100 billion annually at the COP15 summit in Copenhagen in 2009, but only a portion of that amount has been paid out. This funding was designed to assist developing countries in mitigating climate change and providing resources for adaptation.
Despite the failure to provide this funding thus far, the Glasgow pact's request for a doubling of funding to assist developing nations in adapting to the effects of climate change is the second most significant outcome. "While this will not cover all of the budgetary needs of poorer nations, the fact that affluent countries have pledged to double their collective adaptation expenditures is a significant step forward."
Developing Countries Billions of Dollars Short of Funding for Estimated Expenditures
However, the Glasgow Climate Pact did not address the finance issue. Despite the fact that the Adaptation Fund, which was formed in 2001 to support poor country adaptation efforts, got $356 million in fresh financing at COP26, funding levels remain woefully inadequate. Even while the accord requires rich countries to at least quadruple adaptation funding by 2025, this is still billions of dollars less than the estimated expenditures.
The inability to build a solid mechanism to deliver financial aid for loss and damage caused by climate change frustrated developing countries and civil society organisations.
Funding Needed for Landfill Gas Schemes in the Developing Countries Even for Methane Flaring to Work
As far as installing methane collection and extraction schemes in the developing countries is concerned it is hard to see how such systems can be installed without help from the more wealthy nations. Money will be needed to engineer these landfills to the standards necessary for efficient landfill gas collection, extraction and flaring with still further cash help with the much-needed provision of energy from waste/ power generation.
Net Zero Emissions Challenges
Overall, the awareness that achieving net zero emissions involves more than just switching from one energy source to another, but also a reinvention of current forms of production and consumption was missing from the debates at COP26. Guy Grainger, global head of sustainability services at real estate services firm JLL, agreed, wishing for more emphasis on the circular economy in order to accelerate climate change reduction.
"We will see more electric cars and they will become more affordable, and they will increasingly be fueled by wind and solar energy," said one net zero emissions expert.
Ms. Donlon said that at the conference's conclusion, governments pledged to step up efforts during "this pivotal decade" to cut climate change in half and meet the historic 2015 Paris Agreement's temperature goal of 1.5 degrees Celsius. The Glasgow Climate Pact, the COP26 conclusion agreement, also calls for 197 countries to present stronger national action plans for more ambitious climate action next year.
It's critical to achieve net zero emissions by 2050—that is, for every amount of greenhouse gas released into the sky, an equal amount is removed from the atmosphere.
Experts believe global emissions should be halved by 2030 to be on pace to meet that climate change limiting goal. Global temperatures have already climbed by 1.1 degrees Celsius since pre-industrial levels, according to a report released earlier this year by the UN-backed Intergovernmental Panel on Climate Change.
"We've managed to keep 1.5 degrees of climate change alive." However, its pulse is faint, and it will only survive if we build on the conclusions of COP26 next year.
151 nations have filed new climate change reduction plans (known as nationally determined contributions, or NDCs) to reduce their emissions by 2030 by the end of COP26. To stay on track to limit global warming to 1.5 degrees Celsius, we must cut global emissions in half by the end of this decade. The United Nations, on the other hand, estimates that these climate change amelioration policies, as they stand, will still lead to global warming of 2.5 degrees Celsius by the end of the century. While this is better than the 4 degrees Celsius track the world was on before the Paris Agreement, it still puts the global environment in grave danger.
Due to China's and other high carbon emitter's absences, negative Net Zero perceptions abounded.
Even news agencies that don't generally cover these types of stories were impressed by the amount of coverage. However, there was a propensity to criticise India and China without considering the context of their conduct. We must acknowledge the United States' significant contribution to global emissions. Because we outsource our manufacturing to them, the United States has also contributed to the rise of China and India's emissions.
Greenhouse Gas Emissions
The bundle of decisions includes a number of agreed-upon elements, such as increased efforts to improve climate change resilience, reduce greenhouse gas emissions, and provide the required funding for both.
It's critical to achieve net zero emissions by 2050—that is, for every amount of greenhouse gas released into the atmosphere, an equal amount is removed from the atmosphere—and experts believe global emissions should be halved by 2030 to be on pace to meet that goal.
Beginning in 2024, all countries, including developing countries, must publish their national emissions and progress toward meeting their nationally determined contributions (NDCs) under the new transparency requirements. Article 6 on international cooperation to reduce greenhouse gas emissions, particularly through carbon markets, was also finalised. One restriction that stands out is one that prevents "double counting," which occurs when numerous countries count the same emission reductions. That, of course, does nothing to reduce climate change.
Carbon Markets
International collaboration to minimise greenhouse gas emissions, especially through carbon markets which will help the developing countries, will be a critical tool in achieving the net zero goal and limiting global temperature rise.
On a more positive note, delegates were able to complete a deal on carbon markets that was left incomplete in Article 6 of the Paris Agreement, clearing the door for the creation of a worldwide carbon pricing and trading system. At COP26, the private sector made unprecedented promises to achieve net-zero goals and provide the trillions of dollars required to fund the transition.
Since 2018, a few lingering concerns have caused delays in carbon market decisions. Since then, such issues have remained on the table, with significant implications for achieving climate change mitigation goals. At COP26, these last difficulties were mostly handled for the better. International Carbon Markets were chosen by the negotiators. The world's nations agreed on the regulations for the global carbon market under Article 6 of the Paris Agreement after five years of negotiations.
Climate Finance Outcomes of COP26
The delivery of climate finance has been pushed back, with rich countries admitting that they will not fulfil the $100 billion target until 2023. It is vital to keep this pledge in order to secure a just and equitable climate transition. Overall, there are still major gaps.
This failure to deliver so far not only fails to provide critical resources to nations most susceptible to climate change, but also raises the issue of whether similar long-term commitments made at COP26 will be followed through on.
According to the United Nations Environment Program, developing countries require $70 billion per year for adaptation, with this figure anticipated to treble by 2030. Poorer countries resumed their appeals for financial assistance from wealthy countries to adapt to the effects of climate change as COP26 approached.
By 2024, the objective for post-2025 climate finance is likely to be set. Developed countries have also promised to at least increase adaptation financing by 2025, to at least $40 billion.
---
---
It is well known that fugitive emissions of methane and landfill gas occur when methane escapes from production facilities, wells, pipes, compressors and other equipment associated with coal mining or natural gas extraction, landfills, and biogas plants. It is obviously very important to reduce fugitive emissions to an absolute minimum. Why are Fugitive Escapes of […]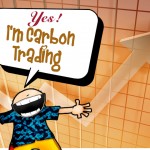 Frequently Asked Questions in Carbon Trading How does the EU Emissions Trading Scheme (the "EU ETS" – also referred to as CCTS, and CDM) affect the Waste Industry? First of all – both hazardous and municipal waste incinerators will not be subject to the scheme. However, the burning of landfill gas (either on its own […]
Greenhouse Gas Generation – Landfilling and Incineration Compared So, you want to know which is better for the planet's greenhouse gas emissions – Landfills or Incineration? When waste is incinerated, two greenhouse gases are produced, carbon dioxide and nitrous oxide. The IPCC has produced detailed guidance on what counts as a greenhouse gas and what does […]